ISY-26 INSTEON
Jump to navigation
Jump to search
Introduction
Please note: Product is discontinued
The ISY-26 INSTEON Controller was an intelligent, web-enabled, stand-alone INSTEON network manager and controller. ISY-26 is the most affordable standalone home automation solution for small to medium sized INSTEON/X-10 installations. Whether you are a DIYer, an electrician, or a home automation integrator you will enjoy the ease with which the once tedius task of programming INSTEON devices is accomplished.
ISY-26 is now obsolete.
Documentation
This is all the latest documentation on the ISY INSTEON. Since development on the ISY is heavy these days this documentation is continually trying to keep up with the changes. If you see something that needs updating please see the Community Portal for the details about helping improve this Wiki for the ISY community.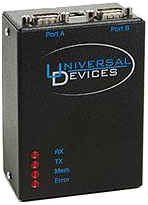 Resources
Downloads
Firmware
Release Notes
---
---