ISY-99i/ISY-26 INSTEON:Components and Navigation
Jump to navigation
Jump to search
Components
The ISY GUI is very intuitive. It is comprised of complementary panes (refer to Figure 5) that allows the user to navigate, view, operate and configure the lighting network. The main GUI components are the Top and Lower Pane.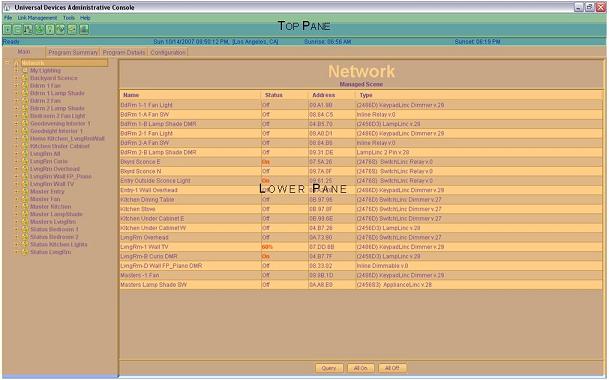 The Top Pane is located at the top section of the GUI. It always contains the menu, tool bar, the location current date and time, and location sunrise and sunset time. This section always remains the same no matter which action you are performing. The Lower Pane has four tabs to choose from: Main, Program Summary, Program Details and Configuration. Each tab selected will show the network details for the user to monitor, control, or configure the lighting network.
Navigating through the various menus, submenus, tree/node and toolbars uses the Windows point and click features. You can drag and drop components from one node to another when permissible or applicable. The Left mouse click normally selects the item where the mouse pointer is, otherwise the click. Keeping the left mouse button pressed after selecting and moving the mouse will drag the item. Selecting an item with Right mouse button will show you a menu for that item. Release the right mouse button and select the menu with the left mouse button.
Related Pages
---