ISY-99i/ISY-26 INSTEON:Linking a KeypadLinc
Jump to navigation
Jump to search
Linking a KeypadLinc
Linking a KeypadLinc is the same as for most other Insteon devices.
KeypadLinc Options
What are Mutually Exclusive Buttons
Mutually Exclusive Buttons, as the name implies are "grouping" of buttons such that one and only one button can be "ON" at any one time. This grouping is very useful for cases where you have the same set of devices controlled by multiple Keypadlinc buttons, from the same Keypadlinc, each one of which impacts the scene differently. Here are some examples of what this feature might be used for.
Low, Medium, High, and Off Fan Speed Buttons
Party, Romantic, Dinner, Lunch, and Breakfast Buttons
Opening Mutually Exclusive Groupings Window
To make two or more buttons Mutually Exclusive, simply drag and drop them into a Mutually Exclusive Button Group.
Use the "Logon to My INSTEON ISY Now!" weblink, enter your user name and password when prompted to get logged in
Under the Main Tab expand the Tree "Network --> My Lighting -->" and select any one of your Keypadlinc's button nodes
Along the bottom select the "Mutually Exclusive Buttons" GUI button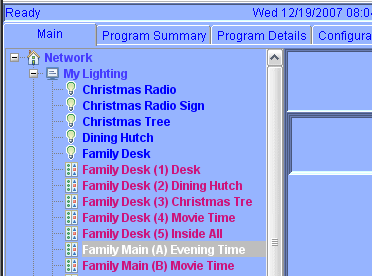 Configuring Mutually Exclusive Groupings
In this window there is a new tree, drag and drop the buttons that are to be grouped on to any of the "Mutually Exclusive Buttons" groups.
When done adding all the buttons you want grouped press the "OK" button to apply the changes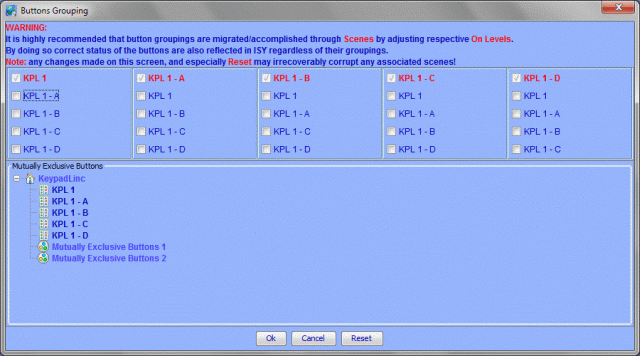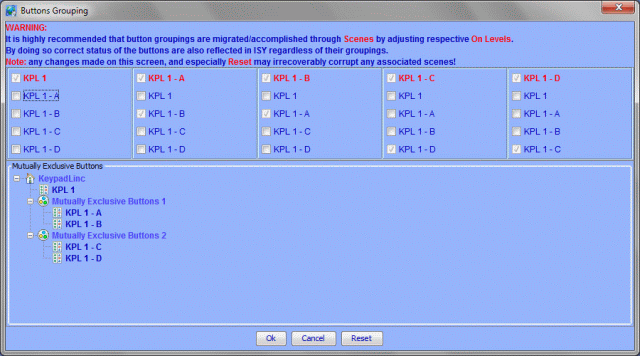 Reseting Mutually Exclusive Groupings
When you need to remove Mutually Exclusive Groupings there is a handy "Reset" button on the bottom of the GUI which saves you the effort of dragging all the devices out of the group. Because the ISY does not track the Keypadlinc groupings you can use the "Reset" to remove any stale groupings.
In the Mutually Exclusive Groupings Window click on the Reset button to clear any groupings, the window will exit and clear the device of any groupings
Button Toggle Mode
Button Toggle Mode sets the button state to toggle from ON to OFF and vice versa, or stay always ON, or always OFF. Assigning a button for toggle OFF sets it to either always ON or always OFF mode setting.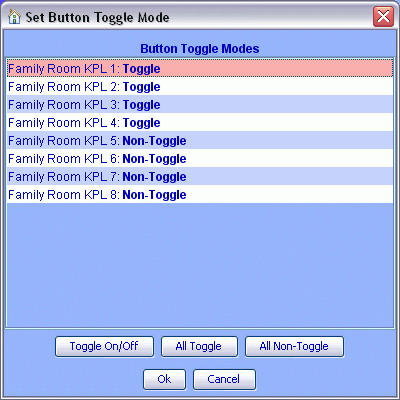 The ISY will open a requester to set the button to ON or OFF (key status LED ON or OFF) in the process.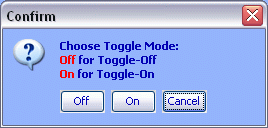 Refer to the KeypadLinc User's Manual Toggle Mode section for more information.
Note: Older Keypads must be set to Off or On at the KPL.

Button Brightness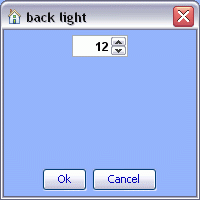 Other Uses
Changing a KeypadLinc's 6/8 Button Mode
KPL Button Rotates Through Scenes
ISY Restores KPL State After Power Loss
Making lights MORE difficult - Great for kids!
KeypadLinc Faqs
Can I make a 7 button Keypad?

If you want to make an 8 button keypad a 7 button then you need to link the "g" and "H" buttons together, then put the same device or devices that you want the 7th button to control and link them to both "g" and "h". Then you would have to put a large button over the place that "g" and "h" used to be. The same could be done for "c" and "d" and so on. The keypad is not designed for this, but it works. Have fun.
Slee
A KPL cannot turn it's load completely off when a secondary button includes it in a scene and the scene is called On. It will be better to use it without a load if you plan scenes that turn the connected lights off. But convenience should be a concern as well.

As a work-around the ISY can be used to set the level to 1%
KeypadLinc Manuals
---
ISY-26 INSTEON / ISY-99i Series INSTEON : How-To Guide