ISY-994i Initial Browser Screen: Difference between revisions
Jump to navigation
Jump to search
 

(19 intermediate revisions by 3 users not shown)
Line 1:
Line 1:

==Initial Browser==

====






[[Image:QSG My Lighting.gif|frame|none|''Figure 3.  Initial Browser'']]

[

:| |






This is isissisis secure page and will require you to enter your Username and Password. Initially these are (lowercase) admin/admin.

is

and

.

.






This window contains links to HTML pages for your Devices, Scenes, Programs, and the Administrative Console. If you have installed the Energy and/or Climate modules there will also be links to display this information.






==Devices==

Displays a list of all controllable devices with the current status and On/Off buttons.






[[Image:HTML Devices.gif|frame|none|Devices]]

:.






Selecting a dimming device will allow you to also Fast On, Fast Off, Dim, Brighten, and Query the device.

to ,






Selecting a non-dimming device will allow you to turn the device On, Off, and Query.

-

the ,

,

and .






[[Image:HTML Device.gif|frame|none|Device]]

:

.






==Scenes==

====

Displays a list of Scenes that have been created in the ISY with On/Off buttons.  

that the

/.






[[Image:HTML Scenes.gif|frame|none|Scenes]]

:

.






Selecting a Scene will allow you to Fast On, Fast Off, Dim and Brighten the scene.

you , and the .






[[Image:HTML Scene.gif|frame|none|Scene]]

:

.






==Programs==

====

Displays a list of Programs that are in the ISY along with the Last Run and Last Finish times.  

a

in the

.






[[Image:HTML Programs.gif|frame|none|Programs]]

:

.






Depending on the [[ISY-99i/ISY-26 INSTEON:System Configuration|HTML Role]] as configured in the Administrative Console differing options are available to the user.






[[Image:HTML Programs Admin.gif|frame|none|Program with Administrative Privilages]]

==Electricity==

Clicking on Electricity will display the current Energy parameters.

[[Image:HTML Electricity.gif|frame|none|Electricity]]

==Weather==

If you have the Weather Module installed clicking on Weather will display the current conditions.

[[Image:HTML Weather.gif|frame|none|Weather]]

==Administrative Console==

This will open the ISY GUI in a Java Applet. Please do not close this browser window while using the Administrative Console. You can minimize it but you can not close it at any time while the GUI is running or the application will terminate.

[[Image:HTML Administrative Console.gif|frame|none|Administrative Console]]

The ISY GUI will appear and you will be presented with a user-id/password dialog box. Please enter (lowercase) '''admin''' for both the user-id as well as the password.

[[Image:HTML Authenticate.gif|frame|none|Authenticate]]

==Related Pages==

* [[ISY-99i/ISY-26_INSTEON:User_Guide#Main_Window_Interface|Main_Window_Interface]]









---
Latest revision as of 15:58, 24 February 2017
UDAjax, ISY Default Web Interface FAQ's
How do I access UDAjax?
On Windows, click on http://isy
On MAC/Linux or if http://isy does not work, go to Admin Console | Help | About and type the value for My URL into a browser
What is UDAjax?
UDAjax is the name of the default web interface for ISY.
UDAjax is based on the IsyAjax custom web interface but with an updated layout and look.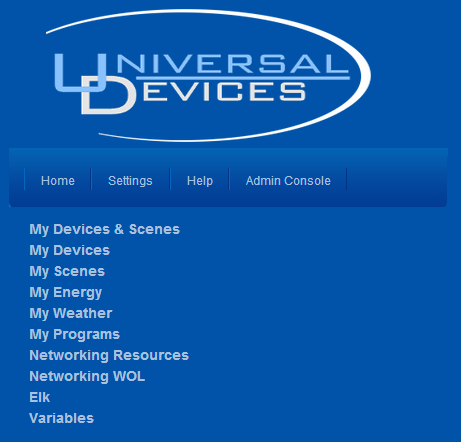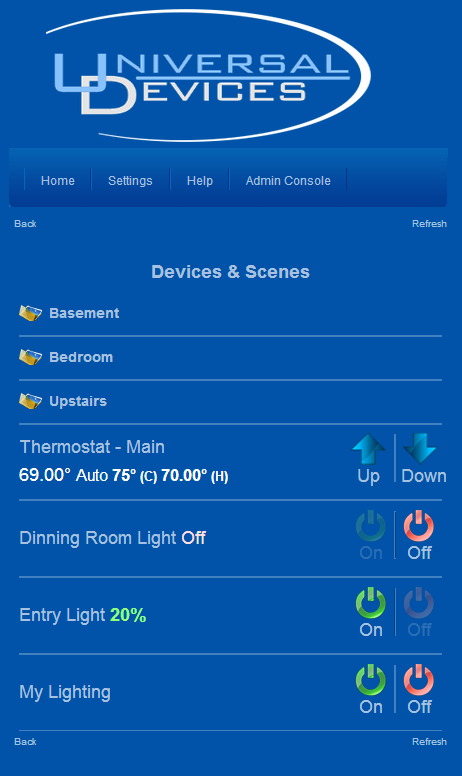 Can I hide a device or scene?
Yes by adding a ~ in front of the name of the device or scene in the admin console.
Yes by adding main_panel=false to end of hash in the browser address (add an & in front if there is other data, just a # if there isn't)
What settings can I change?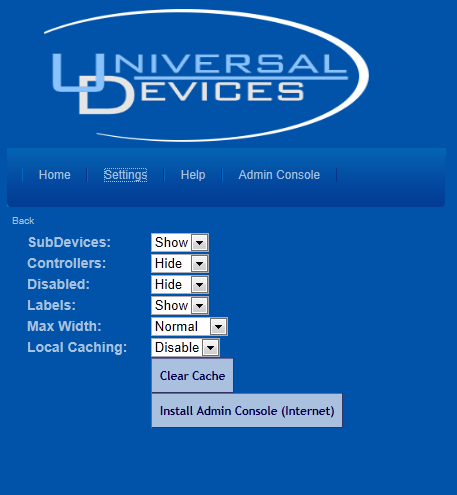 Sub Devices, Hide/Show:
Hide/Show the extra buttons on Keypads, Remotes ect; An older option left in, using my Devices & Scenes and Grouping devices is usually a better option.
Controllers, Hide/Show:
Hide/Show control only devices such as RemoteLincs and ControLincs, based on their Insteon categories.
Disabled, Hide/Show:
Hide/Show disabled devices.
Labels, Hide/Show:
Hide/Show labels on controls on devices and/or scenes pages.
Max Width:
Changes how wide the interface is allowed to display.
Local Caching:
UDAjax will save a copy of the devices and/or scenes in the browser local cache in-between browser sessions.
Use care enabling this feature as you will have to manually clear this cache on the settings page whenever you add, remove or change a device or scene and want to see the changes.
Even with local caching disable the web interface will save a copy of the device and or scene list in memory, reloading/leaving the interface in the browser, or the Clear Cache button on the settings page will clear it.
Camera Support (Requires 4.0.1 and above):
Most Foscam's, Axis, and Panasonic Camera's are supported for easy config; Just select the brand and enter the ip and port.
Any other camera that supports jpg snapshots can be added if you know the http url to get a jpg snapshot.
Unsupported Camera's:
Foscam FI9802W and probably most Foscam H.264 cameras, along with some other brands, do not support jpg snapshots needed to view the camera's in most browsers without upgrading their firmware to the latest version.
Please note you can still use this model or other unsupported (but compatible) models by choosing "Other" as camera brand/model, and specifying the jpg/snapshot url.
Password/Usernames:
If the cameras don't support including the username and password in the later part of the url (axis camera's for example), the web page will include it right after the http:// as http://user:password unfortunately this isn't supported on all browsers but it is the best that can be done.
Trouble Shooting
I am getting a parsing error loading ...
Please make sure you don't have any un-allowed special characters in the names.
Also check browser cache by clearing it in browser settings, using another browser/device or using private browsing.
A device or scene is missing:
If you enabled local Caching on the settings page, please clear cache there.
If not please check browser cache by clearing it in browser settings, using another browser/device or using private browsing
---