ISY-99i/ISY-26 INSTEON:Button Toggle Mode
From Universal Devices, Inc. Wiki
Button Toggle Mode
Button Toggle Mode sets the button state to toggle from ON to OFF and vice versa, or stay always ON, or always OFF. Assigning a button for toggle OFF sets it to either always ON or always OFF mode setting.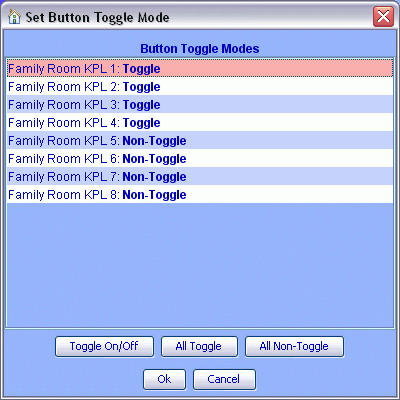 The ISY will open a requster to set the button to ON or OFF (key status LED ON or OFF) in the process.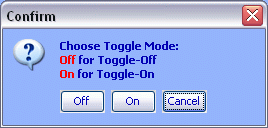 Refer to the KeypadLinc User's Manual Toggle Mode section for more information.
---

ISY-26 INSTEON / ISY-99i Series INSTEON : How-To Guide
ISY-99i/ISY-26 INSTEON:Link Management Menu/ Linking a KeypadLinc