ISY-99i/ISY-26 INSTEON:Errors And Error Messages
From Universal Devices, Inc. Wiki
Red Exclamation Mark
If you see a red exclamation mark next to a device then you have lost connectivity to that device. Wait a few second and see if the device comes back on its own. If it does not then the device might be faulty or something was changed in the environment which affects the connectivity between the device and the ISY,
If you see a red exclamation mark next to the Network node and all the devices listed in the Tree View, see Figure 57, you have probably lost connectivity to the ISY. You must re-login, select the Login option under the File Menu. If you are unable to re-login please reboot the ISY.
If you are not getting the Linking in Progress Dialog as shown in Figure 8, check you connection with the PLM or the PLM device itself.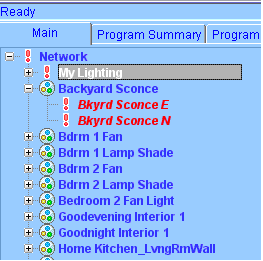 To Report an Error
To report an error, please send an email with the error description to:
tech@universal-devieces.com
Please provide the error and the situation in which the error presents itself. If possible please include a screen shot(s).