ISY-99i/ISY-26 INSTEON:Linking a TriggerLinc
Jump to navigation
Jump to search
Motion Sensor Linking
The Insteon Motion Sensor cannot be linked using Auto Discover.
Menu - Link Management/New INSTEON device
Enter the address.

The Motion Sensor address is on a sticker inside the battery compartment.

Select the Motion Sensor from the drop down list. It's the 2nd from last device, at the time of this writing.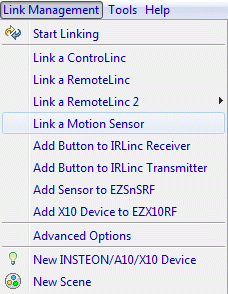 Click Ok.
Press and Hold the Set button for 5 seconds to put the Motion Sensor in linking mode as per the requester.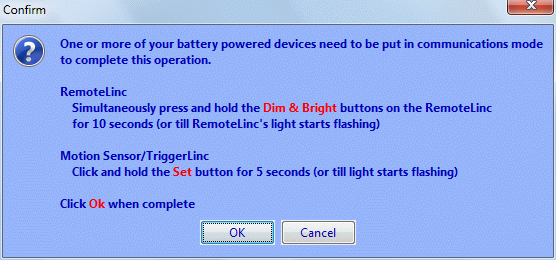 Click OK.
Wait while the ISY initializes communications with the Motion Sensor.
Motion Sensor Options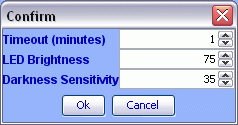 Timeout (minutes) - Defines the period of inactivity before the Motion Sensor will send an Off. Default = 1 minute. Range = 0.5 - 8.5 minutes in 30 second increments.
LED Brightness - Default = 100. Range is 0 - 255.
Darkness Sensitivity - The higher the value, the darker it needs to be for the unit to see night. Default = 35. Range = 0 - 255.
Motion Sensor FAQs
To access the Motion Sensor, one or more Access Points must be installed.

Tip: Plug an Access Point into the PLM for positive results.

After a new battery is inserted or a factory reset is performed the motion sensor needs 5 minutes to stabilize the circuitry.
The Set button toggles between Motion Off and On.
The Motion Sensor must be "awake" to hear messages.

Tip: Put the Motion Sensor into linking mode to keep it awake for 4 minutes.
The Motion Sensor can be taken out of linking mode by pressing the Set button twice.

A command is only sent when there is a change.

Do not expect to see a status for Motion until there has been a change.
Do not expect to see a status for Dawn/Dusk until there has been a change.
Do not expect to see a status for the battery until the battery becomes depleted.

Dusk/Dawn requires a change to persist for 3.5 minutes before transmitting a command.

Dusk (dark) is represented by On.

When the On-Only Mode jumper is set the motion sensor will send an On when there is new activity only after there is no activity for the duration of the timeout period plus ~ 2-4 seconds.

This is the same behavior as when the motion sensor sends an Off.
---
ISY-26 INSTEON / ISY-99i Series INSTEON : How-To Guide