ISY-99i/ISY-26 INSTEON:Linking a Trigger Link
From Universal Devices, Inc. Wiki
TriggerLinc Linking
The Insteon TriggerLinc cannot be linked using Auto Discover.
Menu - Link Management/New INSTEON device
Enter the address.

The TriggerLinc address is on a sticker inside the battery compartment.

Select the TriggerLinc [10.02] from the drop down list.
Click Ok.
Press and Hold the Set button for 5 seconds to put the TriggerLinc in linking mode as per the requester.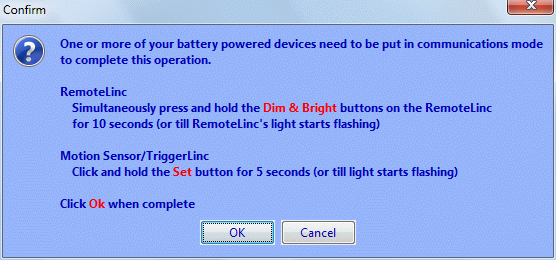 Click OK.
Wait while the ISY initializes communications with the TriggerLinc.
TriggerLinc FAQs
To access the TriggerLinc, one or more Access Points must be installed.

Tip: Plug an Access Point into the PLM for positive results.

The Set button toggles between Off and On.
The TriggerLinc must be "awake" to hear messages.

Tip: Put the TriggerLinc into linking mode to keep it awake for 4 minutes.
The TriggerLinc can be taken out of linking mode by pressing the Set button twice.
---
ISY-26 INSTEON / ISY-99i Series INSTEON : How-To Guide