ISY-99i/ISY-26 INSTEON:Mutually Exclusive Buttons
From Universal Devices, Inc. Wiki
What is Mutually Exclusive Buttons
Mutually Exclusive Buttons, as the name implies are "grouping" of buttons such that one and only one button can be "ON" at any one time. This grouping is very useful for cases where you have the same set of devices controlled by multiple a Keypadlinc buttons, from the same Keypadlinc, each one of which impacts the scene differently. Here are some examples of what this feature might be used for.
Low, Medium, High, and Off Fan Speed Buttons
Party, Romantic, Dinner, Lunch, and Breakfast Buttons
Opening Mutually Exclusive Groupings Window
To make two or more buttons Mutually Exclusive, simply drag and drop them into a Mutually Exclusive Button Group.
Use the "Logon to My INSTEON ISY Now!" weblink, enter your user name and password when prompted to get logged in
Under the Main Tab expand the Tree "Network --> My Lighting -->" and select any one of your Keypadlinc's button nodes
Along the bottom select the "Mutually Exclusive Buttons" GUI button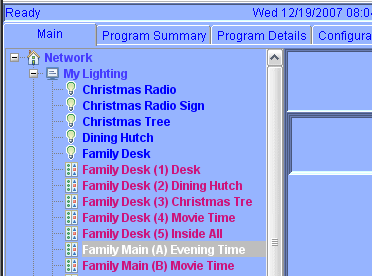 Configuring Mutually Exclusive Groupings
In this window there is a new tree, drag and drop the buttons that are to be grouped on to any of the "Mutually Exclusive Buttons" groups.
When done adding all the buttons you want grouped press the "OK" button to apply the changes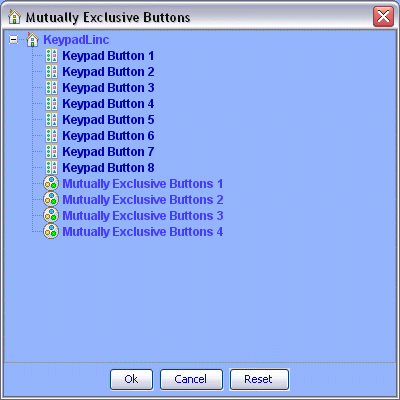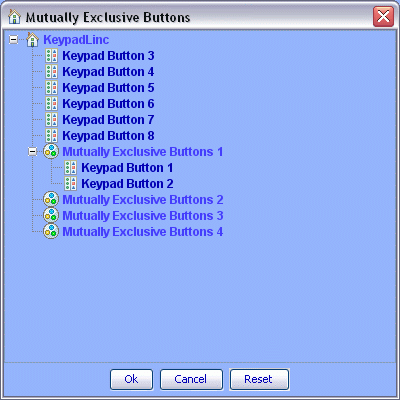 Reseting Mutually Exclusive Groupings
When you need to remove Mutually Exclusive Groupings there is a handy "Reset" button on the bottom of the GUI which saves you the effort of dragging all the devices out of the group. Because the ISY does not track the Keypadlinc groupings you can use the "Reset" to remove any stale groupings.
In the Mutually Exclusive Groupings Window click on the Reset button to clear any groupings, the window will exit and clear the device of any groupings
---

ISY-26 INSTEON / ISY-99i Series INSTEON : How-To Guide
ISY-99i/ISY-26 INSTEON:Link Management Menu/ Linking a KeypadLinc