ISY-99i/ISY-26 INSTEON:Replacing/Formatting an SD Card
Jump to navigation
Jump to search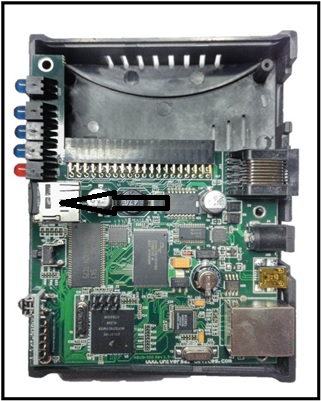 In the ISY has two different memory storage locations. First is the base memory where the ISY has some of the basic code like its boot loader, SD file system, and networking facilities. The other memory is the SD card which is where upgraded admin firmware and user files are stored. Sometimes the SD card gets corrupted and/or damaged and needs to be reformatted or physically replaced. In either event here is the basic steps to complete in order to get your system back up and running smoothly.

These are some of the main symptoms to look for to know if your SD Card is acting up. In order to further ascertain if your SD card has issues please feel free to ask many of the helpful users on the UDI Forum before taking these steps below. This process is a safe process to perform but may be unnecessary if there is other issues going on with your ISY system.
Flashing "Error" LED indicates file system problem ("Error" + "Memory" LED flashing indicates network error which this process will not fix)
Unable to complete restoring a backup from the admin, usually quitting at the same percentage with each attempt

It is best to complete this process from a local LAN connection and make sure that all Firewall and Anti-virus software is disabled during it.
Change the SD Card (skip this step if your only formatting the SD card)

Remove the four screws that attach the medal lid of the ISY, see figure 1 of ISY without its cover
Remove the four screws that secure the circuit board inside the case (ISY-99i only)

Please note: newer ISYs now have access to the SD Card from the outside of the unit so no disassembly is required

Remove the old SD Card and replace with the new card

Please note: ISY supports up to a 16GB SD card with 4.2.18 firmware and above, any firmware before this only supports a 512MB SD card

Reassemble the ISY in the reverse order

Format the SD Card - you do NOT have to format the SD Card if it's new

Login with the admin password
Issue "FS" to format the SD Card, answer the "Are you sure question" with an upper case "Y"

Please note: the ISY works with both FAT 16/32, but FS function formats it specifically for use with ISY with some performance improvements so its preferred you use this method.

You will see the Goodbye prompt confirming that the format is complete and that the has ISY rebooted

Install the latest firmware

Download the latest firmware which can be found from the Current Release and Betas section of the Forum.
Go to http://isy.universal-devices.com/994i to launch the ISY

Please note: using the UDI link supplies the admin code to launch your ISY in its clean state, trying to connect with any other methods will not work until you have reinstalled the latest firmware

Login with the admin password
Choose Help | Manually Upgrade My Lighting
Choose the latest firmware (or beta if you wish) from the location you have downloaded it to
The ISY will reboot after the install is complete

Restore your latest good backup

Login with the admin password
Choose File | Restore ISY
Choose your latest good backup

Please note: If your performing this whole process because of a corrupted SD card, a good backup is considered one that was completed successfully before the SD card got corrupted

The ISY will reboot after the restore is complete

Check that all is well

Login with your password
Devices and programs should be restored and back to normal
---