ISY-99i/ISY-26 INSTEON:SMTP Configuration
From Universal Devices, Inc. Wiki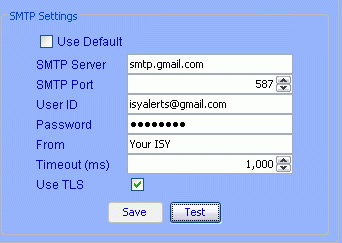 Use Default - Will cause notifications to be sent using the mail server at Universal Devices in which case you do not need to enter any of the following parameters. If preferred one can uncheck that box and enter the necessary parameters.
SMTP Server - The name of the server for your email account.
SMTP Port - The port number the account requires.
User ID - The user name for the account.
Password - Enter the password for the email account.
From - Usually any characters you wish to be displayed in the message. Some providers require this field to match the User ID.
Timeout - Can be increased from it's default value of 1000 milliseconds if necessary.
TLS - works if and only if the server requests in the TLS handshake. If the server does not require TLS (such as gmail does), then TLS will not be used.
Be sure to click the Save button after making any changes.
The Test button will attempt to send a notification and alert you in case of a failure.
Test Account
Universal Devices has set up a gmail account to be used for testing Notification. Please enter these settings:
SMTP Server: smtp.gmail.com
SMTP Port: 587
User ID: isyalerts@gmail.com
Password: holamola
From: whatever you like
TLS: checked
Finding your SMTP Settings
If you are using Outlook or Outlook Express you can find your current SMTP settings.
Open the Outlook menu Tools | Account Settings...

This will open a new window listing all the accounts that are configured.

Select the account you wish to examine and select Change above the account list. Or double-click on the account.

This will open a window where the User Information, Server Information, and Logon Information are displayed.
Server Information

Note the Outgoing mail server (SMTP) information. This is the name of the server for your email account.

Logon Information

The User name is your User ID.
The Password is not displayed. If you don't know your password you will have to contact your ISP and request a new password.

Click on the More Settings... button to open another window.

Select the Advanced tab.
Under Server Settings note the Outgoing server (SMTP) port number.
Also note the type of encrypted connection.

Cancel or close the three windows.
If you are not using Outlook or need any further information your Internet Service Provider (ISP) or your email service can provide the information.
Related Pages
---
ISY-99i/ISY-26 INSTEON:Configuration Tab