ISY Users:V5:ZWave:Getting Started
From Universal Devices, Inc. Wiki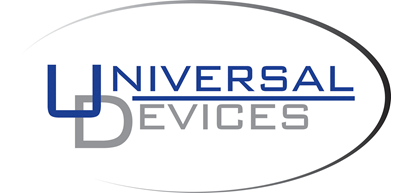 Getting started with Z-Wave Plus™ for the ISY-994 series
ISY Installation
Connect one of the included Cat5e cable to ISY's Network Port and to your network hub. Note: the network must initially be DHCP enabled. If DHCP is not enabled, please configure ISY with a static IP address the instructions for which you will find here.
If you are using Insteon, connect the second included Cat5e cable to ISY's Port A and the other end to the PLM. Note: If your PLM is model number 2413S, you do need a power supply (included)
Host Computer Configuration
If you do not have Java installed, please install the latest for your platform. You may find the latest Java downloads at http://www.java.com/getjava. Please choose the latest JRE for your platform
Follow these instructions to install ISY Finder/Launcher app on your desktop which should be used here on out.
Start the Admin Console
Start the ISY Finder/Launcher on your desktop by double clicking it
Click your ISY on the list which brings up the launch menu
In a few seconds the Admin Console will start. When prompted to authenticate, enter admin for both username and password

Choose Help | About from the Admin Console
On the About Dialog, locate My URL and write down the URL. For example, in the following screen shot, the URL is http://192.168.0.101. You may also access your ISY using this URL (as long as your router does not change the address for ISY)

On Windows machines, you can access ISY by its name: http://isy

Choose a Theme
Select File | Themes to change the color scheme and/or default font size used by the Admin Console. The changes will take place the next time you start the Admin Console.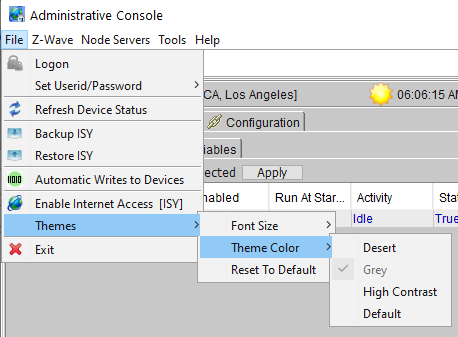 Set Time and Location
Click on the Configuration | System tab and set the Time and the Physical Location for the unit (used for Sunrise/Sunset calculations).


Start Adding Your Devices
Start with the top level Z-Wave menu to begin adding devices to your Z-Wave™ network. We recommend that you first Factory reset the ISY Z-Wave Dongle whenever you start to build a new Z-Wave network.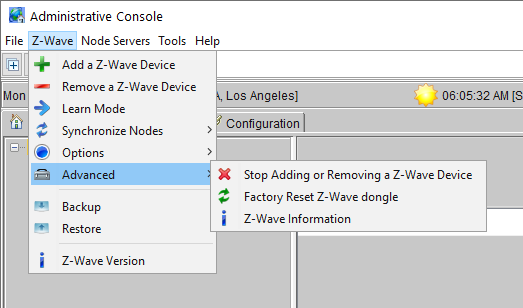 Create a Program
Click on the Programs | Details tab. In the bottom left corner click on the Add Program button. The example here shows thermostat setpoints being changed when a button is pressed on a switch.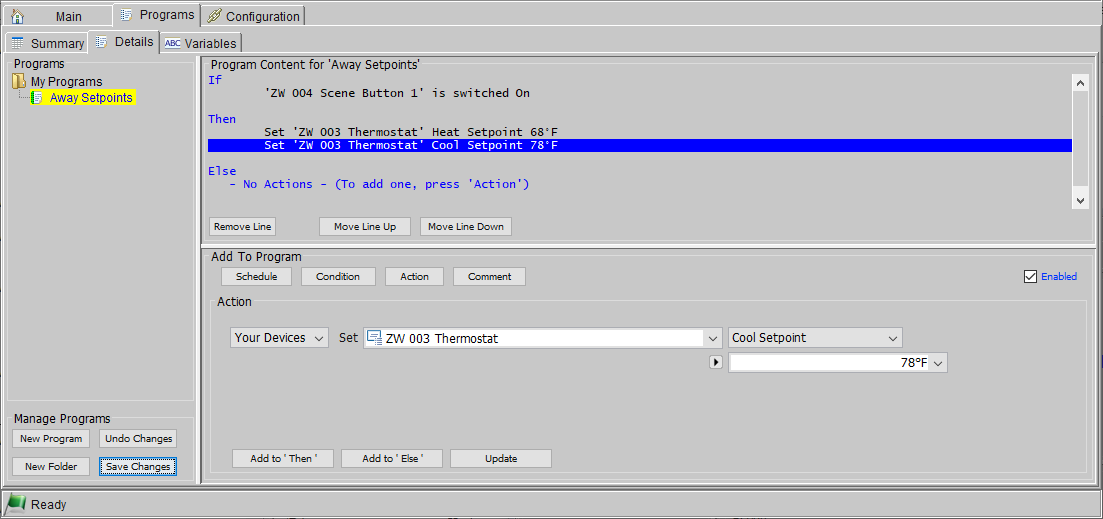 Additional Information
For more comprehensive and in-depth instructions, tutorials, and example, please review our Wiki section on Programs.
Please give our Wiki a look where you will find many resources, including videos, examples, tutorials, and even full user guides in PDF/Word formats.
For our Product and Technical Support Page please visit: https://www.universal-devices.com/udi-support
Don't forget to register your unit to receive important enhancements, updates and upgrade information: http://www.universal-devices.com/register
ENJOY!