Polisy:PG2 Dashboard
Jump to navigation
Jump to search
Settings Menu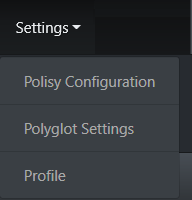 Setting menu allows you to configure Polyglot and System settings.
Polisy Configuration
Allows you to configure system wide time zone and network settings:
To change the Time Zone, you must click on the Change button!
You can also configure your WiFi if you have Polisy PRO.
Polyglot Configuration
If you are not a geek, the only options in this page that are of importance are:
Backup and Restore Polyglot
Yes, you can! If you have been running Polyglot on Raspberry Pi or something else, you can simply back it up and then restore it onto Polisy using these two self explanatory buttons.
ISY Settings
If Polisy has not been able to find and commission your ISY, update this section with ISY parameters such as IP, username, and password.
System Menu
Use this menu to keep your Polisy, Polyglot, and ISY in tiptop shape!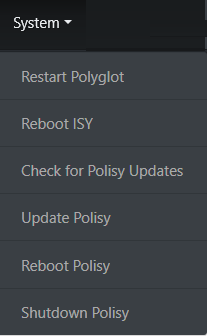 Restart Polyglot
Restarts the Polyglot instance running inside Polisy.
Reboot ISY
Self explanatory.
Check for Polisy Updates
Use this menu regularly to make sure your Polisy is up to date.
Update Polisy
Use this menu if you want to update your Polisy with the latest and greatest as reported by the previous menu.
Reboot Polisy
Reboots the whole system.
Shutdown Polisy
Shutdown the whole system.